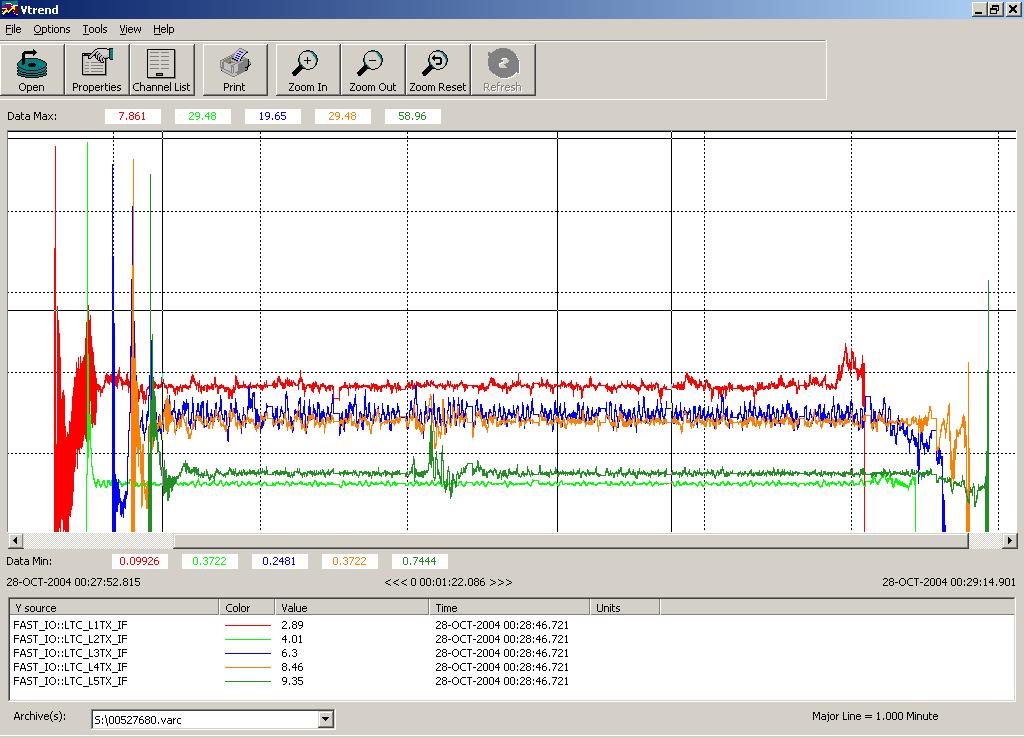 Vtrend
Complete historical data at your fingertips! With Vsystem software, you can do more than look at data as they are archived. Vtrend provides a history and trending tool for viewing archived data graphically.
You control the parameters; for example, you select start and stop times for viewing data. You select the set (or subset) of channels to view. You can set display colors and limits. A zoom feature provides a detailed picture of your data in the colors and line patterns you select.
Vtrend gives you the tools needed to export the data that you are viewing graphically to a spreadsheet, a flat file, or a report generator format. You may choose to reduce the amount of exported data by filters, or you can export the entire sample.
Vtrend Features include:
Allows you to display Vlogger data graphically from one Vlogger file or many at one time
No limit to the number of pens or channels displayed
Supports all analog data types, binaries, messages, and arrays
Has zoom and pan functions
Allows you to extract data to text files
Includes configurable x-y plots
Maintains statistics
Includes fourier transform plot and an interface for user-written data-manipulation routines
Can display analog data separately or in one graph
Can display pictures stored in any channel
Create off-line simulations or training systems. Using our Playback utility, you can play back an archive file into a Vsystem database to determine problems, train operators, or perform useful analyses of "what if" scenarios. You can also use Playback to play a prerecorded scenario, such as the furnace ramping described above, into an on-line, live database.
You can adjust the playback rate to observe events in slow motion, or perhaps single-step through critical data, or you can fast forward to interesting parts of your data. You can set the start and stop time of the playback session and use only those channels that you wish to view.
Playback offers a graphical control panel for supervising playback sessions.
Playback Features include:
Plays Vlogger files back into the database
Controls rates, channels
Has an autorepeat function to provide continous cycling of playback
Create data tables from archived data files. The Table utility allows users to convert Vsystem archive files into ASCII tabular data. This tool can be used to prepare archived data for export to spreadsheets and report writers, or simply to give a recorded archive a human-readable format for viewing or printing.
The Table utility features an SQL subset interface for searching and extracting data from archive files. You can choose archive files to be processed and choose target text files to export to. You can filter channel names by supplying channel lists consisting of those channel names that you find interesting. You can choose the time span in which to search for the specified data, with or without the actual printing of time stamps. Or you can choose to view channel data iteratively, such as every fifth data sample.
Vlogger SQL provides a full featured SQL interface for querying and extracting data from Vlog files.
---
>

Entire website - Copyright © 2016 Vista Control Systems, Inc. All Rights Reserved.

Information in this web site is subject to change without notice.

® Vista Control Systems, Inc., the Vista logo, and Vsystem are registered trademarks of Vista Control Systems, Inc.

Vdraw, Vaccess, Vgen, Vlogger, Valarm, Vscript, Vscan, and Vczar are trademarks of Vista Control Systems, Inc.

Use of this web site indicates you have read the Vista Privacy Policy and accept the uses and restrictions described therein.




Site hosted by bluehost