Mobile & Web Data Access
Access Any Graphic From Anywhere....
---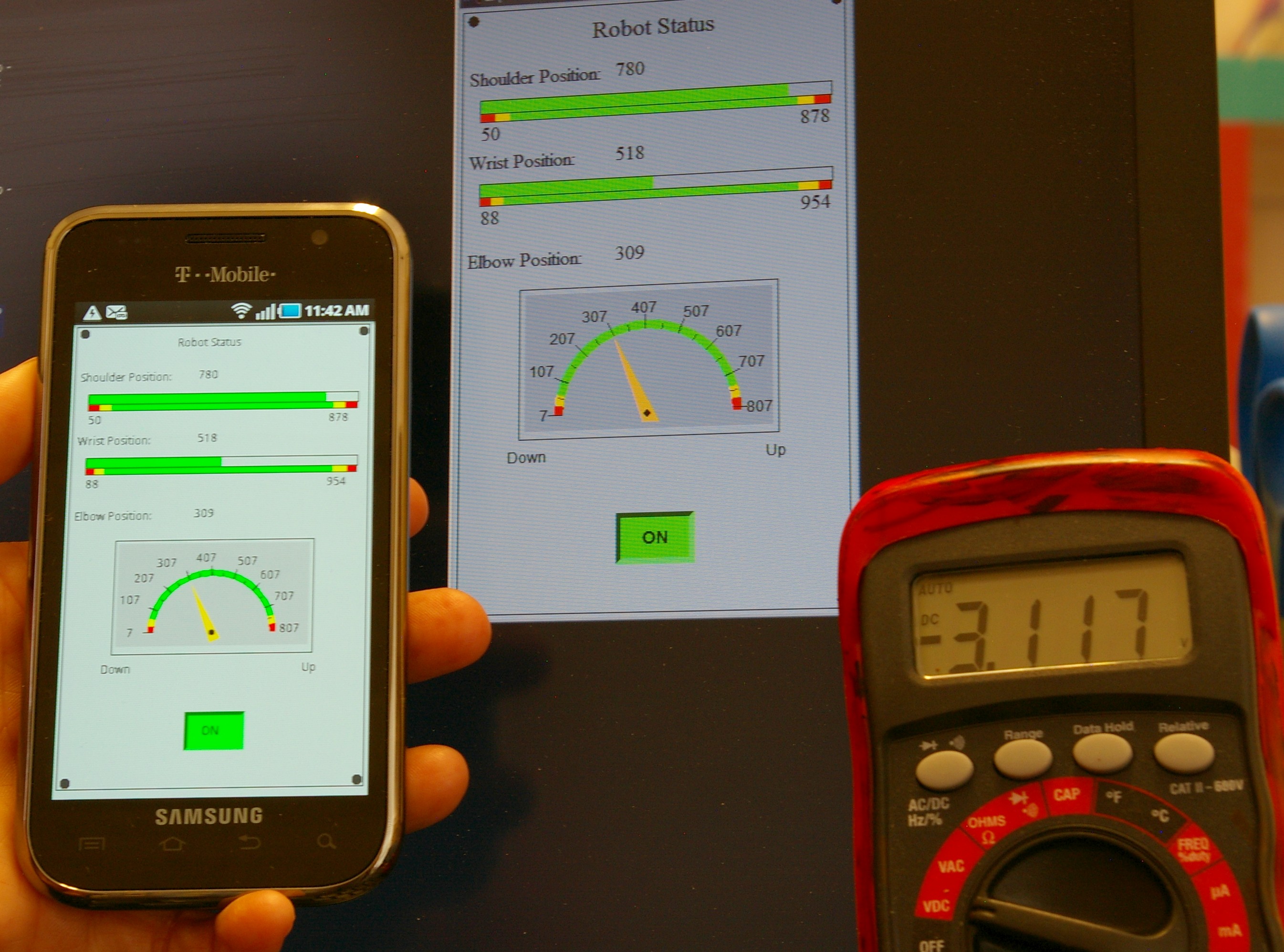 Mobile Access
There is often the need to have a small, portable device with access to process data. Examples are:
Commissioning and trouble shooting around the plant.
Responding to issues when it is not convenient to be at a plant computer with Vsystem running.
Monitoring the plant operations casually.
These needs are being met with the new developments at Vista that are enabled by our logical software design and best in class, multi-operating system product architecture.
Key Enabling Design Detail
In order to ensure that the delivered Vsystem products are the same across all the supported computer operating systems, the core product sources are written in portable C and the operating system calls are made through an operating-system specific library. Similarly, graphics calls are all made to a Vsystem graphics library. By extending this library to send low-level graphics commands to a Vsystem app in the mobile device, the graphics will appear on the screen of the mobile device; any and all graphics!
Working Around the Plant
Commissioning and trouble shooting
With access to the operator screens and operator control anywhere there is a WiFi, 3G or 4G reception that gives access to the plant real-time SCADA system, it is simple and efficient for a technician to commission every connection without requiring someone in the control room and a radio to talk - lowering costs and speeding the job.
Keeping an eye on things….
Mobile access allows responsible engineers and managers to check on operation from anywhere there is a connection - adding new value to plant operations and increasing productivity and lowering costs.
Pixel Issues
Of course, mobile devices have fewer pixels and so displays designed for the operator will take a little extra navigation. Alternatively, displays can be easily created and be designed for the mobile device using the facilities of the host system and thus can also be displayed on the host system.
The IT Department
Security and convenience do not always go hand in hand and the security of a particular installation either has to fit inside plant IT rules or one has to climb the mountain and get the rules modified. Famously, many, many rules were put in place with no idea of the additional cost of doing business caused by them. WiFi can be set to be very secure and WiFi has limited range and thus can be used in a plant with little fear of hackers at the plant fence.
Denial of Service
Casual users with access to the operational computers for service can take performance away from the plant operators and engineers, perhaps at critical times. Providing a controlled link to a computer dedicated to serve the needs of mobile and/or casual users removes the possibility of performance degradation at critical times.
---
Web Browser Graphics
Have the full operator environment available on the company intranet.
Have a read-only operator environment available to anyone.
Add access to the full or reduced environment to the Internet - for staff, customers or the public at large!

How? The same technique implemented for the mobile devices can be used for implementing Vsystem graphics, any and all Vsystem graphics, to be displayed within a web browser. The graphics environment of browsers are different to that of mobile devices families and so the library has to be different. Security Issues With greater access by smart phones, tablets or from web browsers, security has to be engineered into the system. For maximum security, we suggest a computer dedicated to serving application data to the mobile and casual users. This server should then have a copy of the application real-time database kept current from the live database with a one-way link that ensures that no corruption of set points for the live system can occur. For further protection, one of the more secure operating systems supported by Vista Control Systems can be used.
---
>

Entire website - Copyright © 2016 Vista Control Systems, Inc. All Rights Reserved.

Information in this web site is subject to change without notice.

® Vista Control Systems, Inc., the Vista logo, and Vsystem are registered trademarks of Vista Control Systems, Inc.

Vdraw, Vaccess, Vgen, Vlogger, Valarm, Vscript, Vscan, and Vczar are trademarks of Vista Control Systems, Inc.

Use of this web site indicates you have read the Vista Privacy Policy and accept the uses and restrictions described therein.




Site hosted by bluehost