Vsystem Scanners
Kingfisher
RTUnet, an Australian RTU company, manufactures the Kingfisher line of RTUs. Vista Control Systems has the only scanner for the Kingfisher line that supports the Kingfisher video option and communicates in the native Kingfisher Series II protocol. This scanner is available for all platforms and supports all of the Kingfisher Series II communication methods.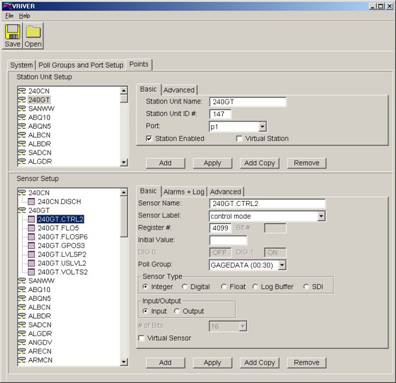 Modbus
This implements the MODBUS protocol over TCP/IP, serial lines, and radio links. Support is included for radio and modem serial links, as well as for hard-wired links. This scanner has controls for dial-up and radio links, supports client-data logging and average value logging for high performance systems, as well as direct serial links and TCP/IP connections. Thousands of devices from many manufacturers can communicate with this standard. A configuration utility is provided to setup the scanner, database, and data logging.
OPC
OPC is a standard way to connect to hardware--most hardware is supported by an OPC server from one or more vendors. The Vista OPC scanner will connect to OPC servers for other I/O hardware. It implements the OPC level 2 specification, and is presently supported on Windows NT/2000/XP only. Other Vsystem platforms will be supported upon request. Vista recommends using Vaccess/remote rather than DCOM when remote connections are required.
RTP
RTP Corporation RTP 2xxx series of controllers can be interfaced with Vsystem using the Vsystem RTP scanner. This scanner supports the standard RTP Ethernet connection and protocol.
Rockwell Automation / Allen Bradley
The Allen Bradley scanner supports reading and writing of controller/program scoped tag data in the following PLCs : PLC5, SLC500, ControlLogix, Micrologix, and FlexLogix using Ethernet, ControlNet, and DH+. Currently available on Linux, Open VMS, Windows NT/2000/XP, and Itanium.
DNP3
The DNP3 scanner supports communications with DNP3 PLCs. Coming soon!
Siemens
The Siemens scanner supports S7 series PLC's with Ethernet and serial communications. Supports direct serial links and TCP/IP connections.
Sixnet
The Sixnet scanner will support time-based scanning and report by exception from RTU's.
General Standards
PCI data acquisition cards.
GE Mark VI GSM Protocol
Read-only connection to GE Mark VI turbine controllers.
Please contact Vista for details on any of these scanners.
---
>

Entire website - Copyright © 2016 Vista Control Systems, Inc. All Rights Reserved.

Information in this web site is subject to change without notice.

® Vista Control Systems, Inc., the Vista logo, and Vsystem are registered trademarks of Vista Control Systems, Inc.

Vdraw, Vaccess, Vgen, Vlogger, Valarm, Vscript, Vscan, and Vczar are trademarks of Vista Control Systems, Inc.

Use of this web site indicates you have read the Vista Privacy Policy and accept the uses and restrictions described therein.




Site hosted by bluehost