Valarm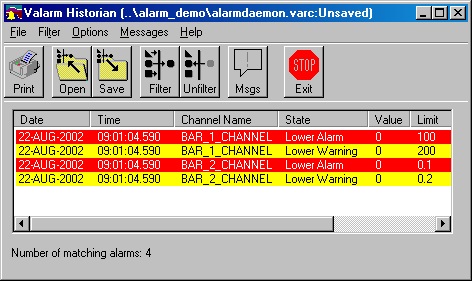 Use Valarm to monitor data and alert you to potential problems. Valarm monitors channels in your system and signals warnings and alarms both audibly and visually.
Valarm is highly customizable, with Vaccess dedicated channel links for reporting and control. The Vaccess database supports the following alarm types, all of which can be displayed and manipulated with the Valarm monitoring package :
Upper Alarm (HIGH-HIGH)
Upper Warning (HIGH)
Lower Warning (LOW)
Lower Alarm (LOW-LOW)
Binary Alarm (Discrete)
Value Match (Integer)
Rate of Change Warning
Rate of Change Alarm
Delayed Alarms and Warnings
Alarm and Warning Hysterecis
Hardware Error I/O Error
Using custom lists of channels, Valarm sets priorities and reports alarms anywhere on your system, locally or globally.
With Valarm
Alarm checking is done in Vaccess
Alarm daemon maintains outstanding alarm and warning counts individually for each priority level
Alarm daemon logs all alarm transitions to disk and/or printer
Alarm manager displays selected current alarms and supports acknowledgments
Alarm historian filters and displays alarm transitions from the alarm log
---
>

Entire website - Copyright © 2016 Vista Control Systems, Inc. All Rights Reserved.

Information in this web site is subject to change without notice.

® Vista Control Systems, Inc., the Vista logo, and Vsystem are registered trademarks of Vista Control Systems, Inc.

Vdraw, Vaccess, Vgen, Vlogger, Valarm, Vscript, Vscan, and Vczar are trademarks of Vista Control Systems, Inc.

Use of this web site indicates you have read the Vista Privacy Policy and accept the uses and restrictions described therein.




Site hosted by bluehost